Dedicated team from beginning to end
Inputs
Requirements

Functional Specifications

Sample test & defect formats

Project schedule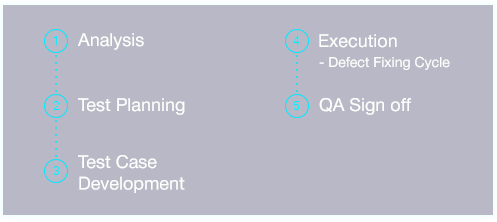 Deliverables
Unit Test plan

Defect reports

Test execution report

Trace Matrix
In-depth Discussions
We talk with key people at your company to determine requirements, current project state, and deadlines
Hand Picked Team
A dedicated team is handpicked to suite your specific business requirements, based on what we learned
Test Plan Built
A comprehensive test plan is built and approved
Execution
Once the application is ready, we'll execute the test cases and provide daily reports
Defect Remediation
We'll manage all defects according to a pre-determined process
Common Deliverables
Requirements Traceability Matrix
Complete, high level, detailed test case mapping to high and low level requirements
Test Plan

A comprehensive Test Plan is the second document to be

developed

and delivered. This high level plan lays out our

company's

understanding of your needs and the effort required to meet them. All necessary resources are explained and validated, as well as a timeline that meets your satisfaction.

Test Cases
A complete set of manual test cases that cover every facet of the functionality. These can be delivered in any format you request.
Defect Reports
Once manual testing begins, defect reports will be delivered in the manner that you request. That could be end of the day summary reports, constant entry into a web based application, emails, etc.
Status Reports with Metrics
Daily status reports are delivered at least once a day and sometimes twice a day depending on the aggressiveness of the schedule and your desires. The metrics provided will list the number of test cases created in each category and their prioritization.
What we need from you
| | |
| --- | --- |
| Project Time Line/Expected date for design completion | We need to know what you expect so we can create the team appropriate to meet those expectations |
| Go Live Date | Not only do we need to know the Go Live date, but also how firm it is and what the criteria is for pushing the date out |
| Demo Session | A walkthrough of the prototype or mockups will help us familiarize ourselves with the application and ensure a greater understanding |
| Business Requirements | If these exist, they will be a primary means for us to understand the system and create appropriate test plans and test cases |
| Functional Requirements | If these exist, they will be a primary means for us to understand the system and create appropriate test plans and test cases |
| Architecture Documents | This kind of in-depth documentation can help us delve deeper into the system and test it more thoroughly |
| Sample Test Documentation | If you have a preferred format for the Test Plan and Test Cases, we need that template or access to the system you want us to use. |
| Defect Report Format | If you'd like defects reported in a specific manner, we need that format or template, or access to the system you want us to use |
| | |
Other main services we provide
Web App Test Automation services
Mobile  App Test Automation services
QA Performance Testing Services